The first 8 weeks of my life...
I was born on February 24, 2010, in a German town called Wesseling in the province of North Rhine Westphalia near Cologne and I have 3 brothers and 5 sisters and many, many beautifull aunties and handsome uncles. We belong to the so called "F-Litter", so all of our names start with the letter "F" and because we have our origins in Italy, mommy insisted on us all having Italian names. I dont want to bore you too much with my baby stories and baby fotographs on my own Site...my aunty Ilka has a beautifull website with lots of pictures of my family. Have a look!!! link
There you will find many wonderful links of various family members of mine, younger and older. Paul, an older brother of mine, who is my absolute hero...I can't wait getting to know him and Lisalotte Little Hottentotte link
and my dear sister, Fiona, that now lives in Estonia has her own website as well! Her parents Maarja and Kert are very friendly and love cheese cake

Just look at how cute Fiona is link
By the way, I also have an account at Facebook and you can find me there under "Spinone Fabrizio".
I have been adopted by two daddies, called Martin and Carl. Martin and Carl visited us 9 whole times in the firs 8 weeks of our lives.
Here I am taking a little nap. This picture Carl or Martin took of me at their third visit in Wesseling and if you look really closely, you might see the date stamp on the bottom right hand corner. I was exactly one month old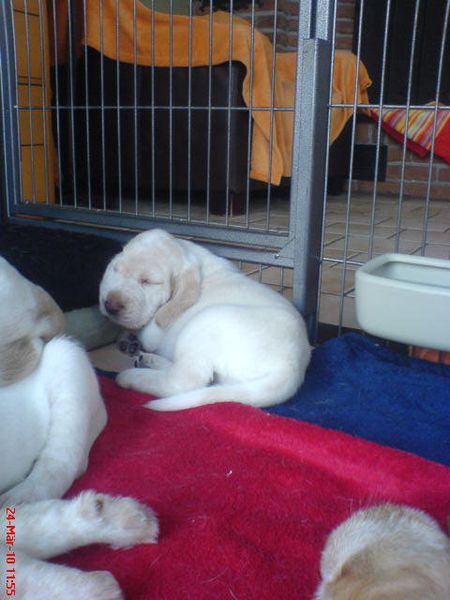 On Martin and Carls 5th Visit they made aunty Ilka pick me up and took this picture of me...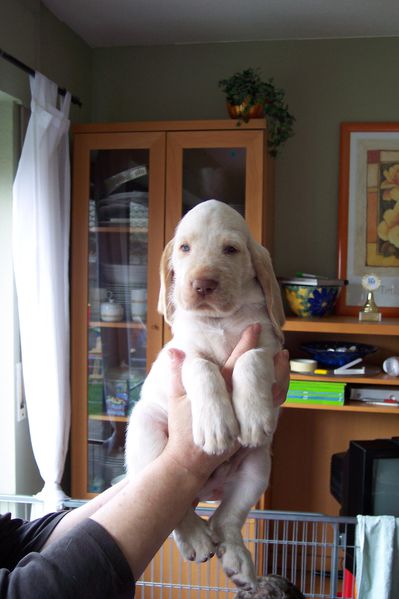 Here Martin was playing with me on their 6th visit..although I must say I really did not find it funny, 'cause they kept me from my afternoon digestion sleep...: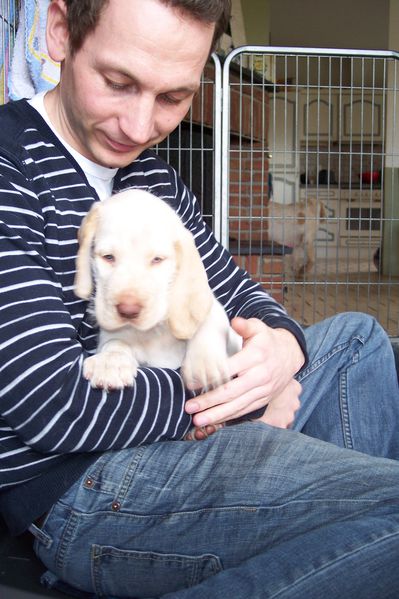 On this picture Carl was takled by us all...I'm at the bottom in the middle with the dark blue collar, trying to delegate the onslaught, assisted by sister Fabiola on the left and sister Fiona on the right, whispering crutual information in my ear! Just look at my brother Fabiano with the light blue collar wresteling Carl down taking him by the throat!!! And look at little Fabia assisting him by pressing and holding him firmly down!!! Just brother Fatalone and some sister at the top left decided that a dual was more exciting!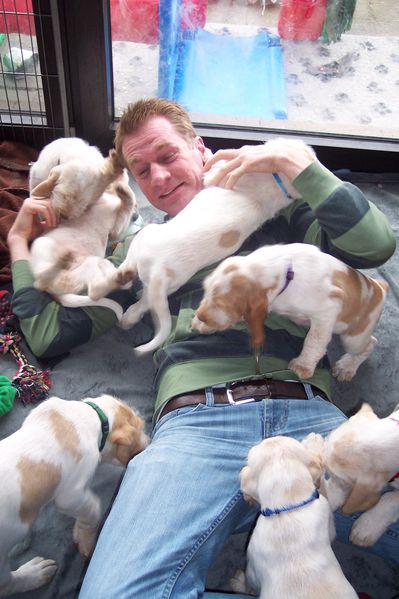 On Carls last visit in Wesseling before I moved to Dortmund, Carl brought my new granny Friederike with...they were so excited and spent hours playing with us. Here's a shot of us two playing outside...: