Stinging Nettle and a deer...
On our daily stroll through Grävingholz-Forest yesterday, we decided to take a small pathway through the undergrowth of the old beech trees. At first we were a little concerned about the thick and tall growth of the stinging nettle, but luckily it bothered neither Benja, nor Fabrizio at all. Martin and I had just commented that hopefully we don't encounter any deer(Benja does have a very strong hunting instinct), then we heard rustling of bushes about 2 meters to the left from the path we were walking on and out jumped a young female deer. She ran just about 5 meters further, then surprisingly turned around and stared straight at us and refused to leave. It then dawned on us that she must have a baby lying in the bush immediately next to us. Luckily Benja and Fabrizio were about 20 meters in front of us, the breeze was carrying the deers scent away from us and Fabrizio was annoying Benja for the umpteenth time and trying to pierce her ears again, so she didn't notice the deer and was trying to stay cool with Fabrizio.
Hands up guys...lots of stinging nettle!!!!!!!!!!!!!
Auf dem täglichen Spaziergang durch Grävingholz entschieden wir uns gestern, einen schmalen Pfad durch Unterholz und alte Buchen einzuschlagen. Zu Beginn waren wir von den dichten und hohen Brennnesseln iritiert. zum Glück schien weder Benja noch Fabrizio das zu stören. Martin und ich haben gerade darüber gesprochen, dass wir zum Glück noch kein Reh gesehen haben - Benja hat einen sehr starken Jagdtrieb -, als wir es plötzlich im unterholz rascheln hörten. In etwa 2 Meter Entfernung rechts vom Weg, auf dem wir liefen, sprang ein junges Reh aus einem Gebüsch. Sie rannte etwa 5 Meter von uns weg. Dann drehte es sich plötzlich um und starte uns an. Sie machte keine Anstalten, wegzulaufen. zum Glück waren mitlerweile Benja und Fabrizio mittlerweile 20 Meter vor uns. Der Wind stand gut, so dass Benja und Fabrizio das Reh nicht wittern konnten. Fabrizio nervte Benja, indem er versuchte, Benjas Ohr zu piercen. Sie bermerkte das Reh nicht, weil sie die ganze Zeit damit Beschäftig war, cool zu bleiben.
Hände hoch... viele brennende Brennnessel!!!!!!!!!!!!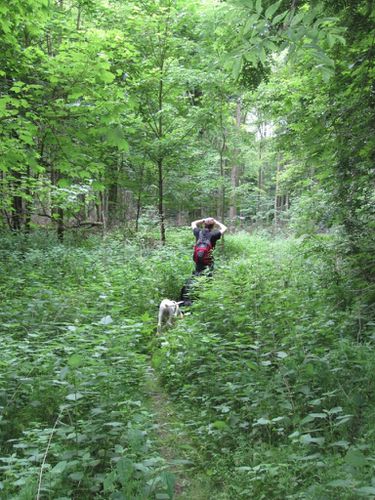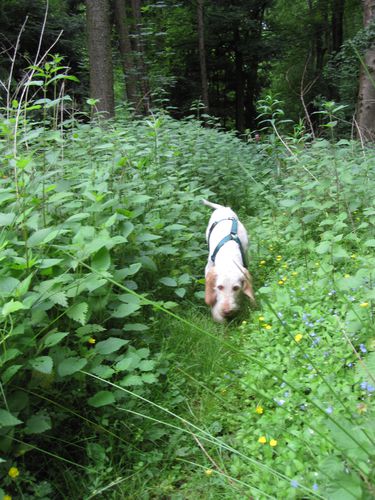 ...there she is, right in the middle of the picture, to the left of the fir tree...
... das ist das Reh, in der Mitte im Bild, links von dem Nadelbaum...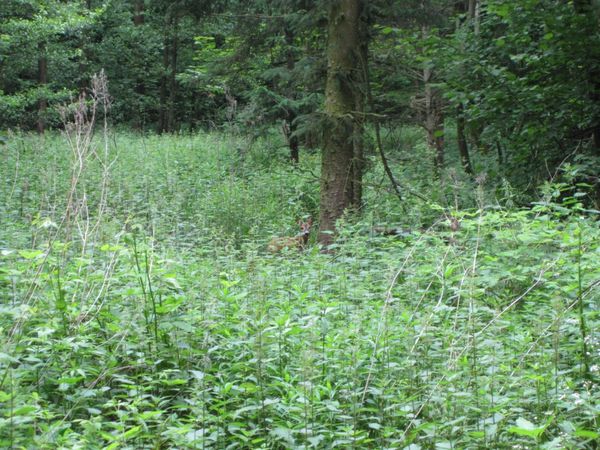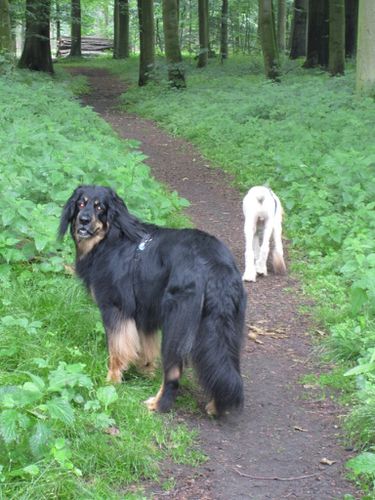 ...taking a break...
...Trinkpause...