Some of my friends and a near death experience...
Benno, the next door neighbour. Benno goes to a school specially for Dachshounds!
Benno, unser Nachbar. Benno geht in eine Hundeschule speziell für Dackel!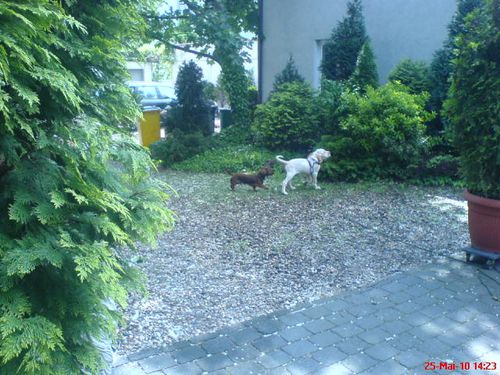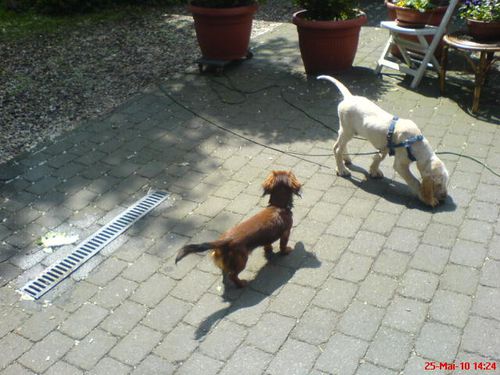 And this is SHORTY. Shorty is a Labradoodle and 3 weeks older than I am, but boy, can he run! Unfortunately you can't see much of him, because Carl says Shorty is to fast for the camera.
Und das ist SHORTY. Shorty ist ein Labradoodle und drei Wochen älter als ich bin. Aber der kann rennen!. Man kann nicht viel auf den Bildern von Shorty sehen. Carl meint, Shorty ist zu schnell für die Kamera.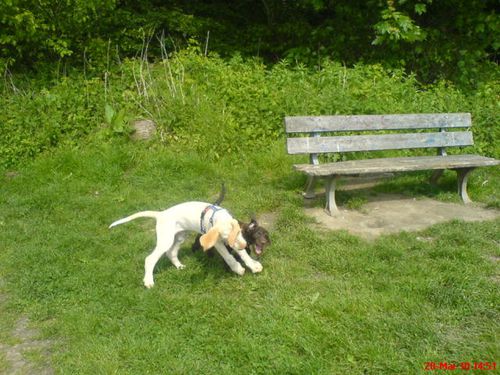 And this lady you already know. Bersie is visiting for Friday and Saturday. We just came back home from a long strole in Bolmke-Forest and today I was almost bitten to death in the ear by a Flat-Coated Retreiver. Carls trousers are soaked in red all over from all the blood I lost!
(It wasn't nearly as bad as Fabrizio is saying and besides, she was playing with her favourite toy...a ball she was retreiving and unfortunately Fabrizio came between her and the ball...)
Und diese Dame kennt Ihr bereits. Bersie war Freitag und Samstag zu Besuch. Wir kommen gerade von einem langen Spaziergang im Bolmke-Wald zurück. Heute wurde ich von einem Falt-Coated Retreiver fast totgebissen. Carls Hose war blutgetränkt!
(Es war nicht wirklich so schlimm, wie Fabrizio schreibt. Die Hündin spielte mit ihrem Lieblingsspielzeug, ihrem Ball. Sie apportieren den Ball und Fabrizio kam zwischen den Ball und der Hündin...)