Hallo Diary!
We have been so busy the past week that I didn't have the chance to update my blog. On Thursday I got my first rabies vaccination and Carl was very proud of me, because I didn't even blink an eye!

Yesterday at puppy school, Carl and I did a small round through the agility course. I loved it!
Liebes Tagebuch!
In der letzten Woche waren wir so beschäftigt, dass ich keine Zeit hatte, meinen Blog zu aktualisieren. Am Donnerstag hatte ich meine erste Impfauffrischung. Carl war sehr stolz auf mich, weil ich nicht mal mit einer Wimper gezuckt habe.
Gestern habe Carl und ich in der Hundeschule eine kleine Runde auf dem Agility-Parkour gemacht. Ich liebe es!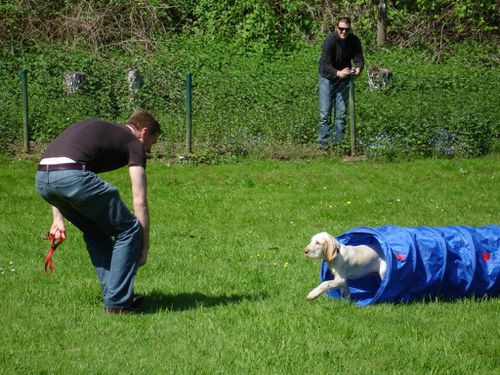 Today Benja and my grandparents visited us and we went for a stroll in the "Bolmke" forest here in Dortmund. We had a ball. The weather was nice and warm. I think I'll like Summer! Carl was a little annoying though. Each and every time I didn't IMMIDEATELY do what he wanted, he took me aside and made me lie down and sit and lie down and sit and lie down and sit...he drove me nuts! But at least he had very tasty treats ready for me afterwards!
Heute waren Benja und ihre Herrchen bei uns zu Besuch. Wir sind im Bolmke-Wald hier in Dortmund spazieren gegangen. Es war fantastisch. Das Wetter war sonnig und warm. Ich denke, ich mag den Sommer! Carl war etwas nervig. Jedes mal, wen ich nicht SOFORT das getan hab, was er wollte, nahm er mich zur Seite. Dann musst ich Platz, Sitz, Platz und Sitz machen. Er hat mich wahnsinnig gemacht! Anderseits hatte er sehr lecker Sachen dabei, die er mir zur Belohnung gab...