Today we skipped puppy school and drove to Castrop-Rauxel to watch Fabrizios teacher and her Australian Sheperd participate in a Sports Tournament. We arrived there much too early and we decided to go for a walk in the adjacent Forest. There Fabrizio had his first encounter with some deer. Luckily they were fenced in, because the moment they became aware of us, they ran to the fence and tried to attack Fabrizio through the fence. Although he was notably disturbed by these "Killer-Deer", he was very brave and stayed at our sides.
By the way, just before lunch we weighed Fabrizio: 17,4kg!!!!
Heute haben wir die Hundeschule geschwänzt. Stattdessen sind wir nach Cstrop-Rauxel gefahren und haben Fabrizions Lehrerin und ihre Hündin, ein Australian Sheperd bei einem Hundetunier besucht. Wir sind zu früh angekommen, so dass wir uns entschieden haben, noch eine Runde in dem Wald dort spazieren zu gehen. Dort hatte Fabrizio seine erste Begegnung mit Dammwild. Zum Glück waren diese eingezäunt. Als das Dammwild uns bemerkte, kamen sie auf uns zugerannt und versuchten, Fabrizio durch den Zaun anzugereifen. Auch wenn ihn dieses Killer-Wild irritierte, war Fabrizio sehr brav und blieb an unsere Seite sitzen.
Ach übrigens: vor seinem Mittagessen haben wir ihn gewogen. Er wiegt jetzt 17,4 kg!!!!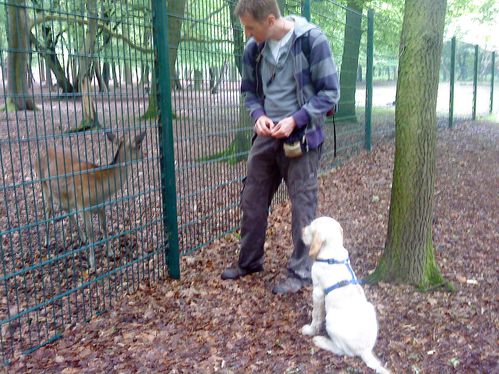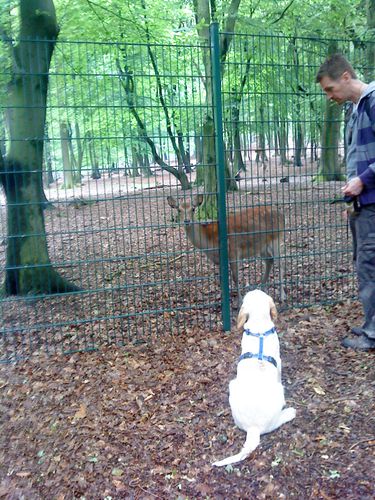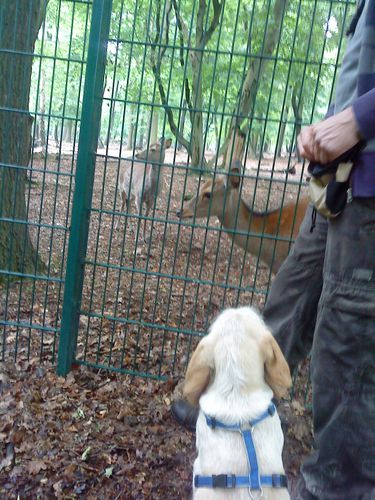 Riding with us in the car is becoming one of his absolute favourite pastimes!
Mit uns Auto zu fahren gehört zu seinen absoluten Lieblingsbeschäftigungen!