My first weeks in Dortmund...
I have just been so busy the past weeks and days, with learning things like sitting and lying down, that we completely failed(and forgot...

) to work on my diaries and memoires, so I'll try and keep it chronological...
Here I am in the car on my way to Dortmund. It was an absolutely dreadfull, horrific journey without end and I cried and cried and cried. Practically the whole way!!! plain aweful... (p.s. this is Carl writing now and not Fabrizio...that is not completely true! Fabrizio moaned a little for about 5 minutes, then he fell in a deep sleep for an hour and snored peacefully. Now that was pretty aweful

)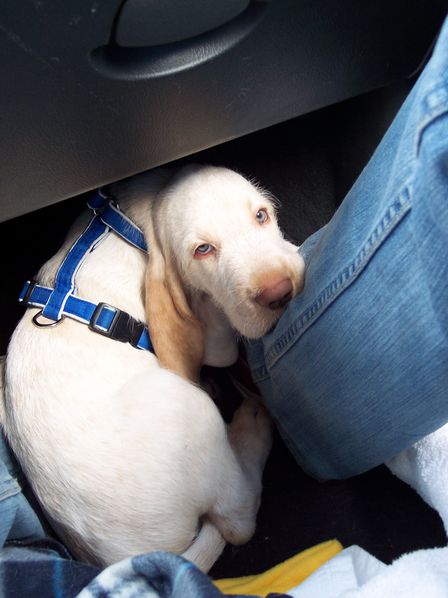 The first thing Fabrizio did in his new home...signed by Carl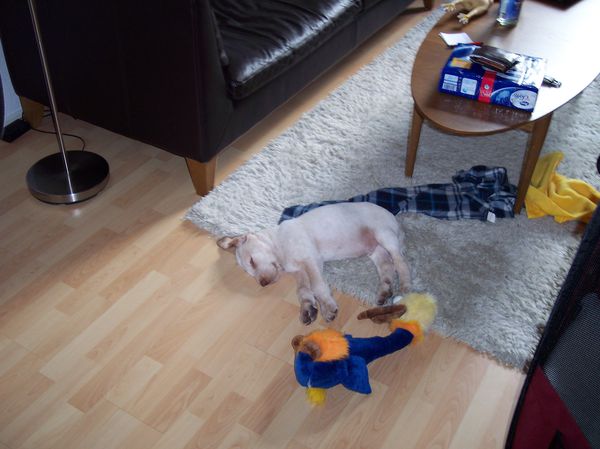 The second thing Fabrizio did in his new home...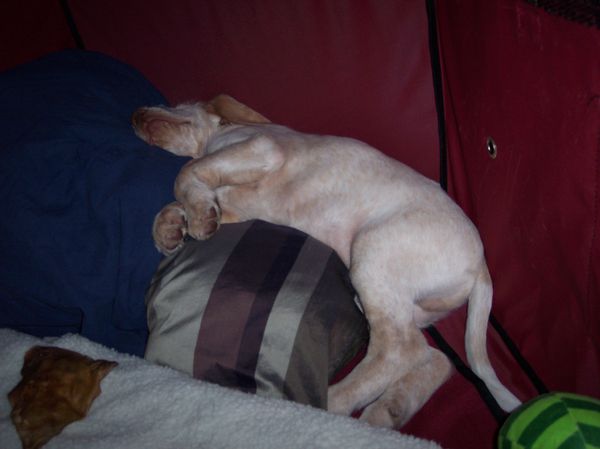 The third thing Fabrizio did in his new home...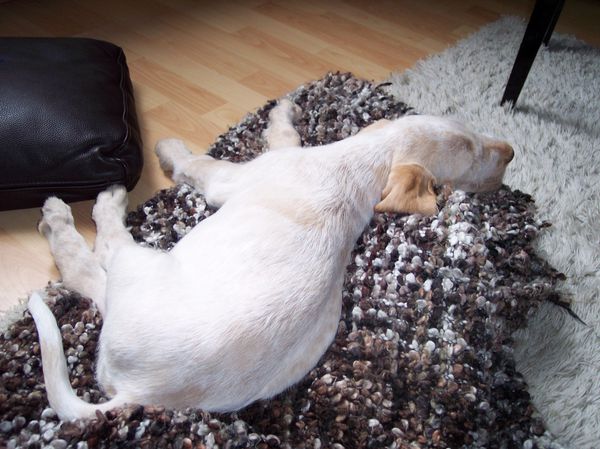 A week later and Fabrizio is still sleeping!!!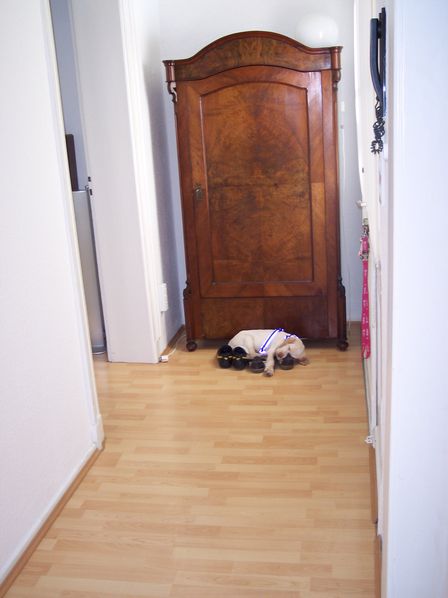 ...this is becoming his favourite thing to pass time with...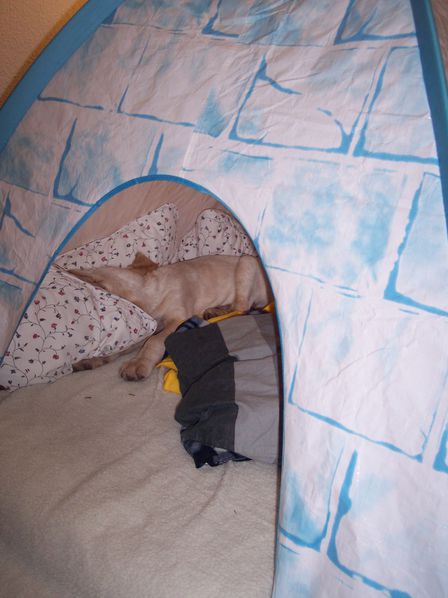 ...in every thinkable position...
...anywhere...even at puppy school...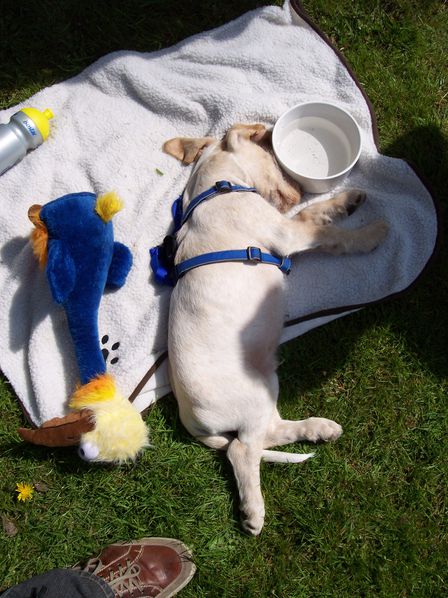 Thank goodness Carl just left for work so it's me Fabrizio writing again...
Last Sunday I met an older brother and sister of mine. Enzo and Dolce...have a look on Aunty Ilkas website under "D-Litter". link We had such fun!!! This is Dolce...she is sooo beautifull...but sooo loud as well...LOL!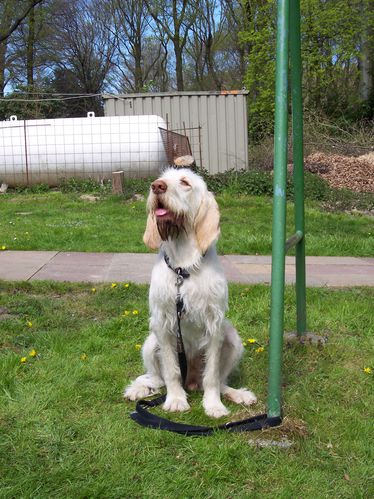 ...and here all three of us taking a break!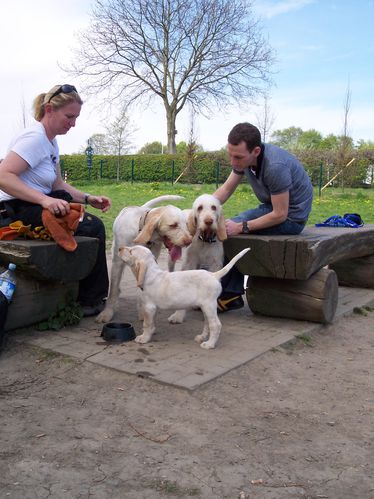 ...and this was the first time I went into the woods. This is me in my new car Martin and Carl bought espescially just for me! I like riding in it...it's COMFY and I dont need to walk for hours and hours! PRACTICAL!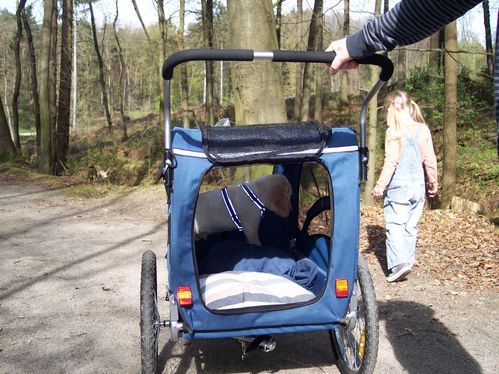 These two girls are two new friends of mine. The lady in black on the top left is called Bersie. She is a Greater Swiss Mountain Dog...and the cuty pie right next to me is Selma. I like Selma...but I don't think Bersie likes me. She doesn't even notice I exist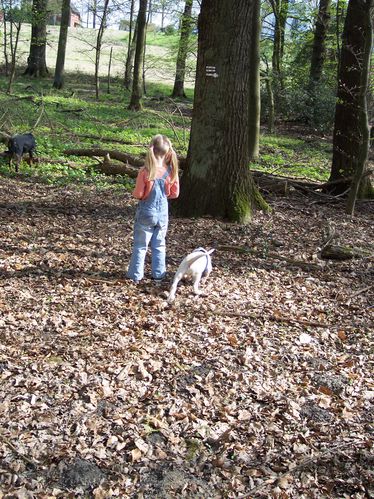 ...this was the day before Yesterday...the first of May. I met a lovely Weimaraner Aunty. She was a little nervous though...don't any one ever mention the word BUNNY again, ok?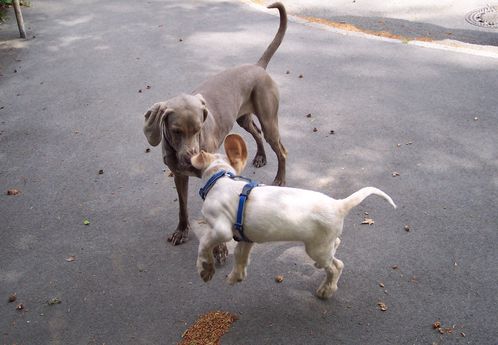 Martin and Carl are threatening to put me on a diet, 'cause they say that I am growing toooo fast and getting tooooo heavy to carry down the stairs. YAIKS!!!!!!!!!!!!!!!!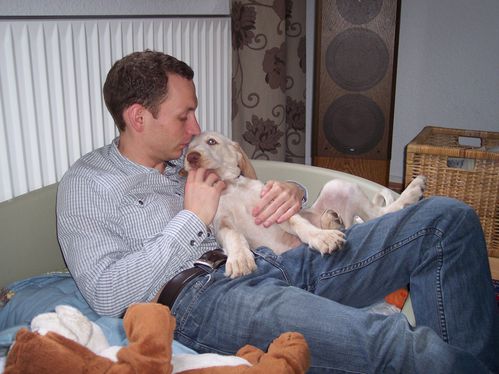 ...doing the washing...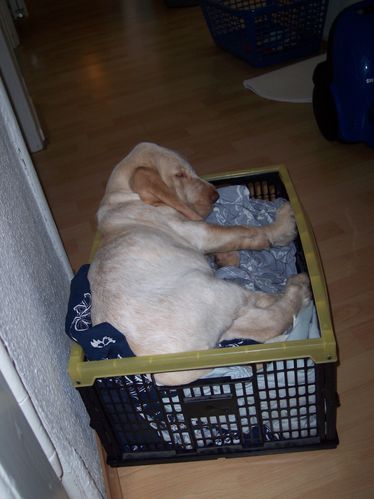 on watchdog duty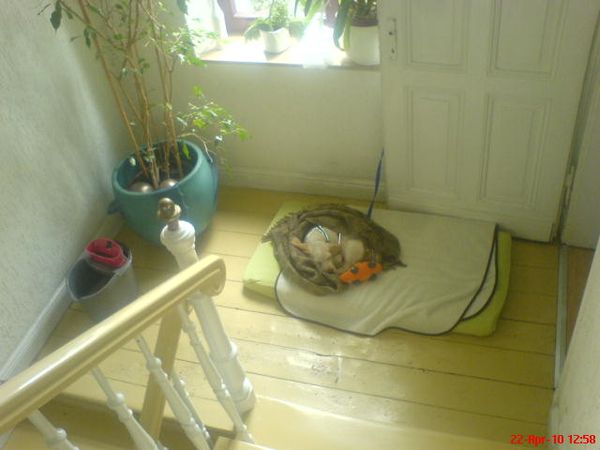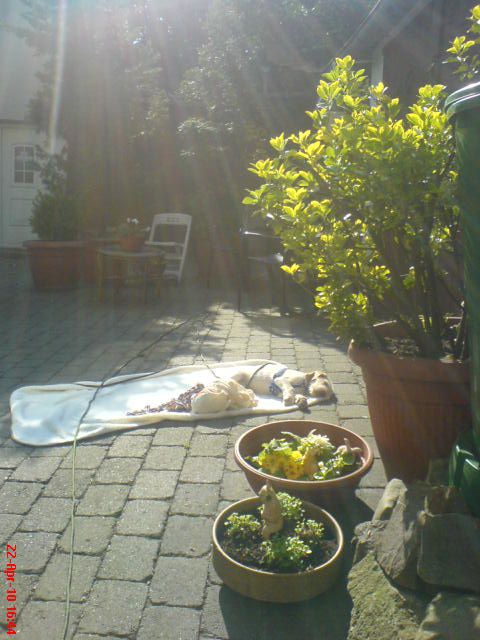 ...puppy school...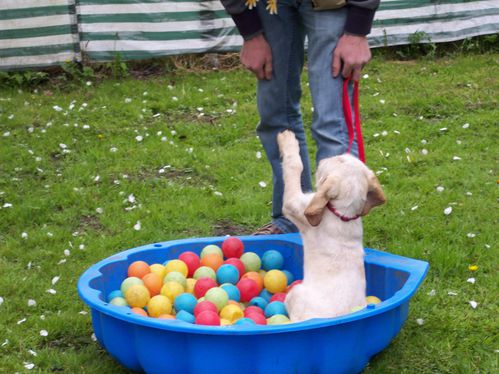 ...why do they alway have to do THIS with my ears. it almost spoils my appetite!!!
(p.s....NOTHING CAN SPOIL FABRIZIOS APPETITE!...Carl)