On Thursday Fabrizio received an injection. He seems to have caught some bad bacterial infection somewhere and the antibiotics worked almost immediately. A few hours later he felt much better and was his adorable self again. So, at the moment we are taking only short walks and just taking it easy for a few days. On Sunday his adoptive sister, Benja - the German Hovawart - is visiting us for 10 days, so we expect many interesting things happening in that time...

Am Donnerstag bekam Fabrizio eine Spritze. Es scheint so, als hätte er sich eine schlimme bakterielle Infektion irgendwo eingefangen. Das Atibioticum schlug sofort an. Schon ein paar Stunden später fühlte er sich sichtlich besser und war so vergnügt wie je zuvor. Wir werden in den nächsten Tagen nur kurze Wege machen und ihn schonen. Am Sonntag kommt seine Adoptivschwester Benja - ein Hovawart - für 10 Tage zu Besuch. Es steht uns also eine aufregende Zeit bevor...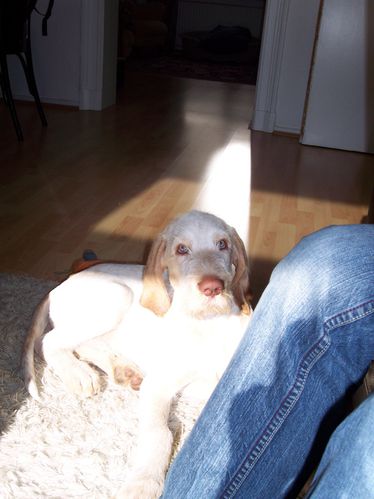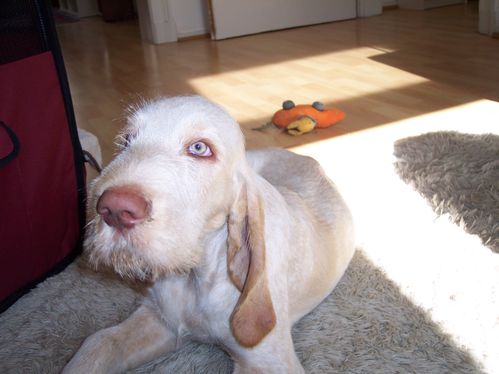 Just look how well he runs back to me when he is called using his special whistle. Two short blows is his code! He is not allowed to run after birds or game, so this is his red-alert whistle and a command he absolutely must obey! Whatever he is doing and wherever he is, if he heares his special whistle, he MUST return to us. I always try and remember that some day he is going to be a large hunting dog, so this command is crutial to us and for his safety...
Schaut, wie toll Fabrizio zurückgerannt kommt, wenn er die Pfeife hört. Zwei Kurze Pfiffe sind das Signal! Er darf nicht Vögeln oder anderen wilden Tieren hinterher rennen. Das Siganl bedeutet also Alarmstufe rot. Er muss alles stehen und liegen lassen und umgehend zurückkommen. Ich übe mit ihm ständig, schließlich wird er ziemlich bald schon ein sehr großer Jagdhund sein. Das Kommando muss also sitzen

Just loving his Bulldog...
Fabrizio und seine Bulldogge - das nennt man Liebe