Beautiful Summer and little Fabrizio has caught a cold...
At long last the the weather is changing in Dortmund. Apparently we haven't had such a cold and wet May in 20 years! The next 2 weeks should be sunny, according to the weather forecast. But unfortunately our little Fabrizio has caught a cold. He's been caughing since yesterday morning and has a runny nose...but luckily he doesn't seem to feel bad and when he's up and about, he's as silly as ever. We're holding our thumbs that it doesn't become worse!
Since yesterday Fabrizio climbs on Martins TV-chair and cuddles his blanket whenever he has the chance to do so...unfortunately he won't be able to do so for long, 'cause the chair is not big enough. His beautiful sister,Fiona in Estonia, has a much bigger chair to strech out on

I do also remember Fabrizios mother, Sara, lying in a similar pose on Ilkas living room chair in Wesseling.
Endlich ändert sich das Wetter hier in Dortmund. So einen kalten Mai hatten wir in den letzten 20 Jahren nicht! Die nächsten zwei Wochen sollen - glaubt man der Wetterprognose - sonnig werden. Aber leider hat sich unser "kleiner" Fabrizio erkältet. Er hustet seit gestern morgen und seine Nase läuft... Aber zum Glück scheint er sich nicht krank zu fühlen. Wenn er wach ist, ist er so albern wie immer. Wir drücken die Daumen, das es nicht schlimmer wird!
Seit gestern klettern Fabrizio auf Martins Fernsehsessel und rollt sich auf seiner decke zusammen. Aber lang wird er nicht auf den Sessel passen. Seine süße Schwester Fiona in Estland hat einen viel größeren Sessel, auf dem sie sich ausstrecken kann. Fabrizios Mutter Sara lag genau so auf dem Sessel in Ilkas Wohnzimmer in Wesseling. Es muss in den Genen liegen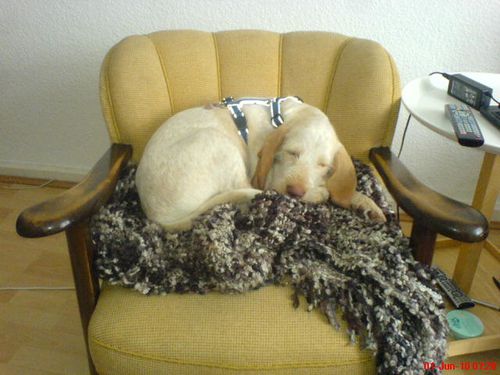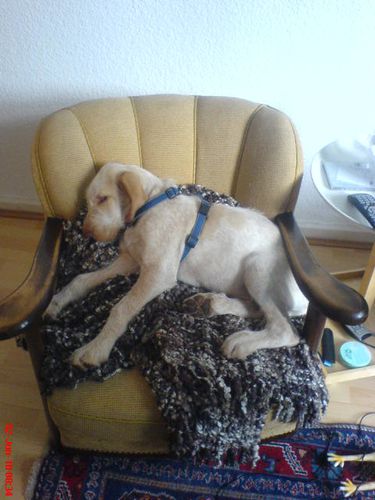 PLEASE don't wake me up now Carl! I promise my bladder is not full!
BITTE nicht wecken, Carl! Ich schwöre, meine Blase ist noch nicht voll!