Just like Ilka sometimes does with Fabrizios uncle, we are making Fabrizio chase after the red dot of a laserpointer. Ilka warned us though, that we should not do it too often, because they do tend to become real JUNKIES. Well Ilka, you are right!!! All that Fabrizio can think about after we played for a few minutes with the laserpointer is:"RED DOT, RED DOT, RED DOT, RED DOT!!!!! WHERE IS THE DOT?!" Everything else seems unimportant and disappeaeres out of his mind. A bird can sit a meter away from him and he wouldn't even notice the bird and if he did, he wouldn't even care...in fact he'd run over the bird looking for the RED DOT! It really seems to hipnotise the little fellow. Hopefully this sort of playing will somehow fulfill the natural born hunter in Fabrizio and keep him from chasing after real game someday! Unfortunately we couldn't yet capture his pointing out of the dot (remember that the Spinone is one of the Grandfathers of the modern Pointers) .It's very cute seeing him stand fully concentrated, with one lifted paw, trying not to breathe and scare the DOT away

Each time he actually points, we haven't been quick enough in grabbing the camera, the one hand already holding the laserpointer, but here at least is a short movie showing Fabrizio running after the DOT!
By the way, Fabrizio now weighs 22,9kg!
He'd rather drink water from a bottle, than out of his bowl...please pardon the gagging noises at the end of the clip

BIRDWATCHING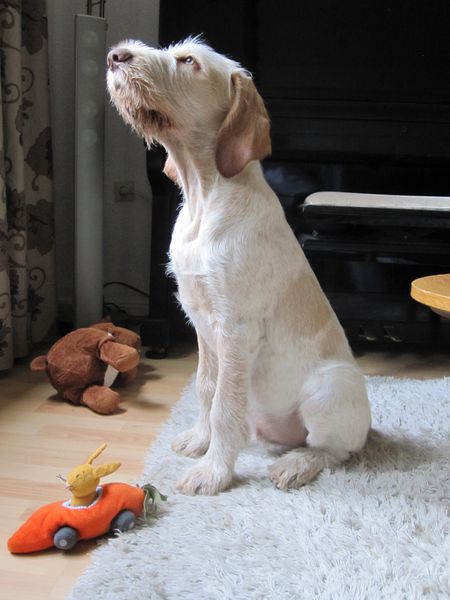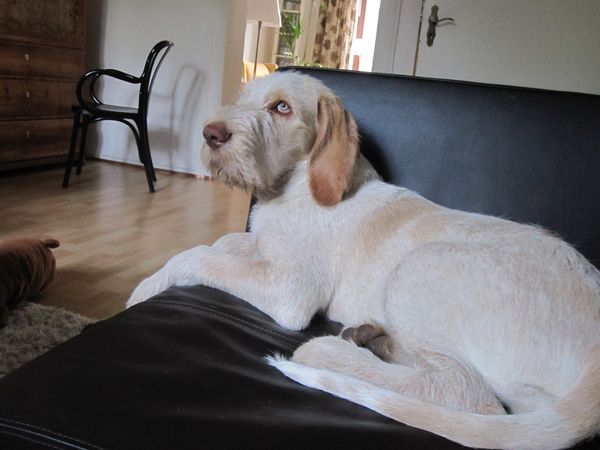 Green eyes and long eyebrows...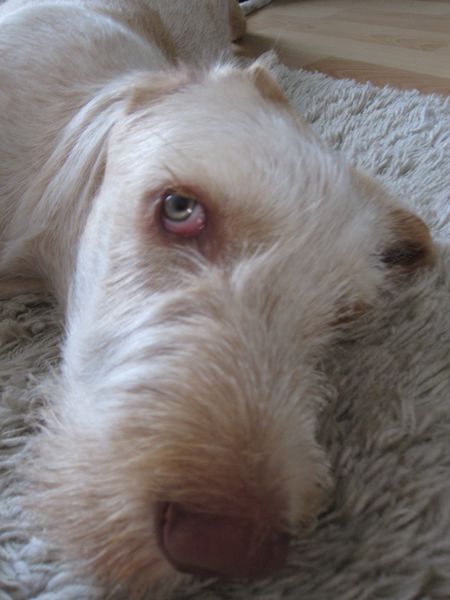 ...a pitty we were not fast enough. Guess what the little bugger did a moment before, pressing his bulldog against the armrest?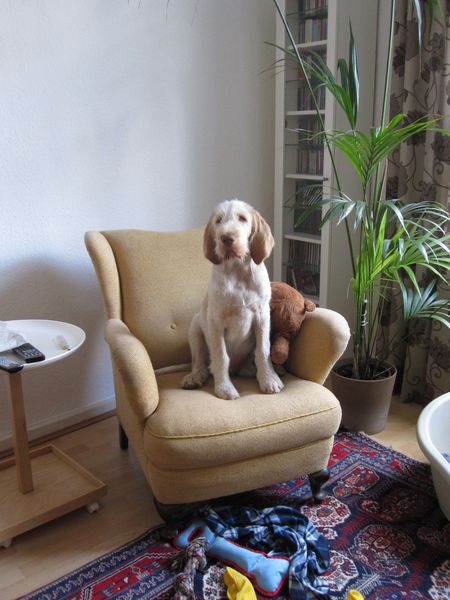 Since Monday we have been having marvellous Summer weather. On Monday Martin and I both had the day off from work, so we went on a longish, but slowish walk through Bolmke with Fabrizio. He was still a little fatigued from the very exciting events of the day before with his siblings in Wesseling. On our walk, we met Lara, a 6 months old "German Shepard". Although she was older and therefore stronger, they liked each other and understood each others way of playing, so it was loads of fun. (By the way, I just weighed Fabrizio again...21,7KG!)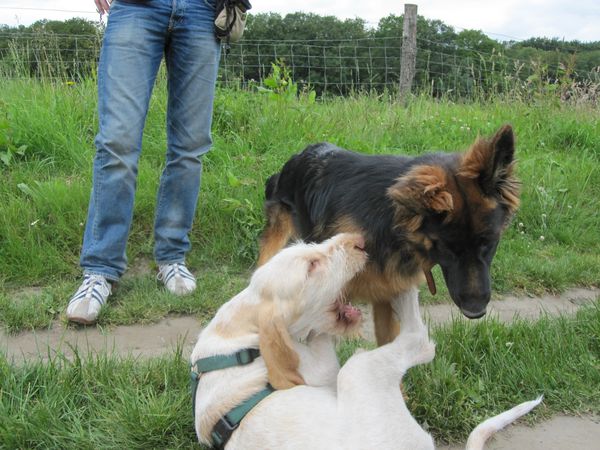 ...the will to play was there, but both were a little tired...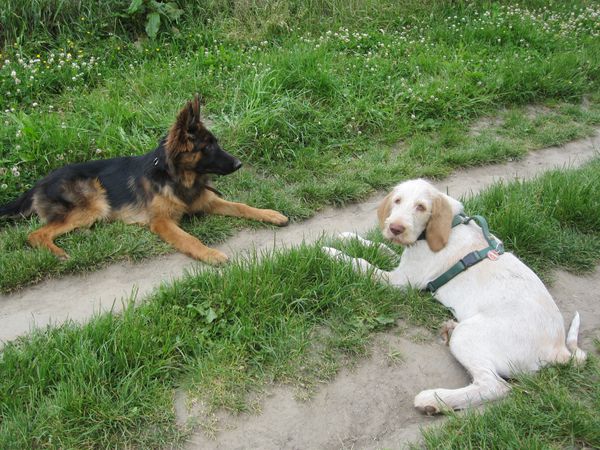 Fabrizio sleeping in the car on our way home from Wesseling on Sunday...his head dangling between the two front seats...as always afraid to miss out on some action